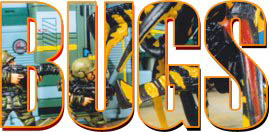 Everyone fights - nobody quits!
More Photos of bugs and bug games


GALLERY:

The Bugs Models are commercially available toys and are, sadly, very hard to find now, except in boot sales, collectors fairs (at high prices) and occasionally in "pound" shops.

A version of them (or one that is not so close as to invoke copyright promblems) is available from Ground Zero Games in white metal.


Pics by John Treadaway, painting - where applicable - by Ben Roberts and Kevin Dallimore